Originally written for and published by an online, lifestyle publication. 
Major League Baseball season runs from mid-spring to fall every year—so, naturally, catching a ball game is one of the more popular date ideas that your guy is bound to throw out during the summer. Finally, your rom-com life goals, influenced heavily by 2005's 'Fever Pitch', are coming to fruition.
But if baseball—or sports, for that matter—isn't really your thing, this might be cause for concern. Before you run for the hills, consider these five ways to get excited about the game.
1. It's an excuse to dress up (or down, if you think about it).
Two words: baseball fashion. Yep, that's a thing—after all, it's called a baseball cap for a reason. Baseball caps, the original snapbacks, are almost always flattering on girls and there's the added bonus of keeping your hair in place all day. Try a sleek ponytail pulled through the back of your cap or a loose braid for a quick and easy summer-do. Fashionable and functional, a cute baseball cap will also shield your face from the sun.
Then, of course, there's the shirt. A popular costume favorite for Halloween, the baseball shirt has always been on trend—just ask Rita Ora. It's sporty but casual, and there's that whole "women dressed in menswear" thing that makes it edgy and attractive. Pair your fave style of baseball shirt with some high-waisted shorts or distressed jeans and you've got a killer outfit.
2. It's also an excuse to get wasted. Sign us up!
You can't enjoy the All-American pastime without the All-American alcoholic beverage—beer. If you're having an extraordinarily hard time mustering up an ounce of excitement, a couple drinks should do the trick. Soon enough, you'll be doing the wave and yelling at the pitchers like the ~true~ baseball enthusiast that you are.
Still not into it? Try inventing your own drinking game: take a sip every time someone in your row gets a hotdog or chug a beer every time someone hits a home run. The average baseball game lasts about three hours—you do the math.
3. Game day food is always clutch.
And we're here for all of it. We're talking pizza, French fries, churros, hot dogs, tacos, pretzels, donuts, ice cream, popcorn, life-sized sodas and, best of all, no judgment because you're at the ballpark and it's part of the experience, God damn it!
4. Kiss cams are cool again.
In the age of social media i.e. sharing every minute detail of our daily lives and demanding audience appreciation, the kiss cam is making an unexpected comeback. Not only is this moment the perfect addition to your Snap story, but it's also pretty much the real-life version of a 15-second Instagram video. For a brief moment, all eyes are on you and, let's be honest, you're loving it.
Bonus: if you're on a first date, the kiss cam pretty much forces you to abandon the awkwardness of the to-kiss-or-not-to-kiss debate you were probably going to have at the end of the night.
5. Do it for the 'gram.
Speaking of social media, nothing says, "Look at all the summer fun I'm having" like flooding your Insta feed with cute photos of you and your friends outdoors—at the pool, at the beach and even at the ballpark. Literally everything around you is good selfie material.
Not convinced? Take a cue from these girls who made national television for their dedication to selfie-ism. Two claps.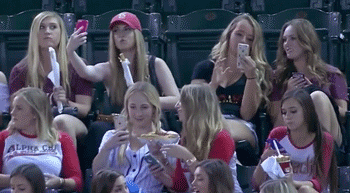 Next time someone invites you to catch a ball game, be a good sport. There's tons of ways to entertain yourself and have an awesome day out even if baseball isn't really your thing!